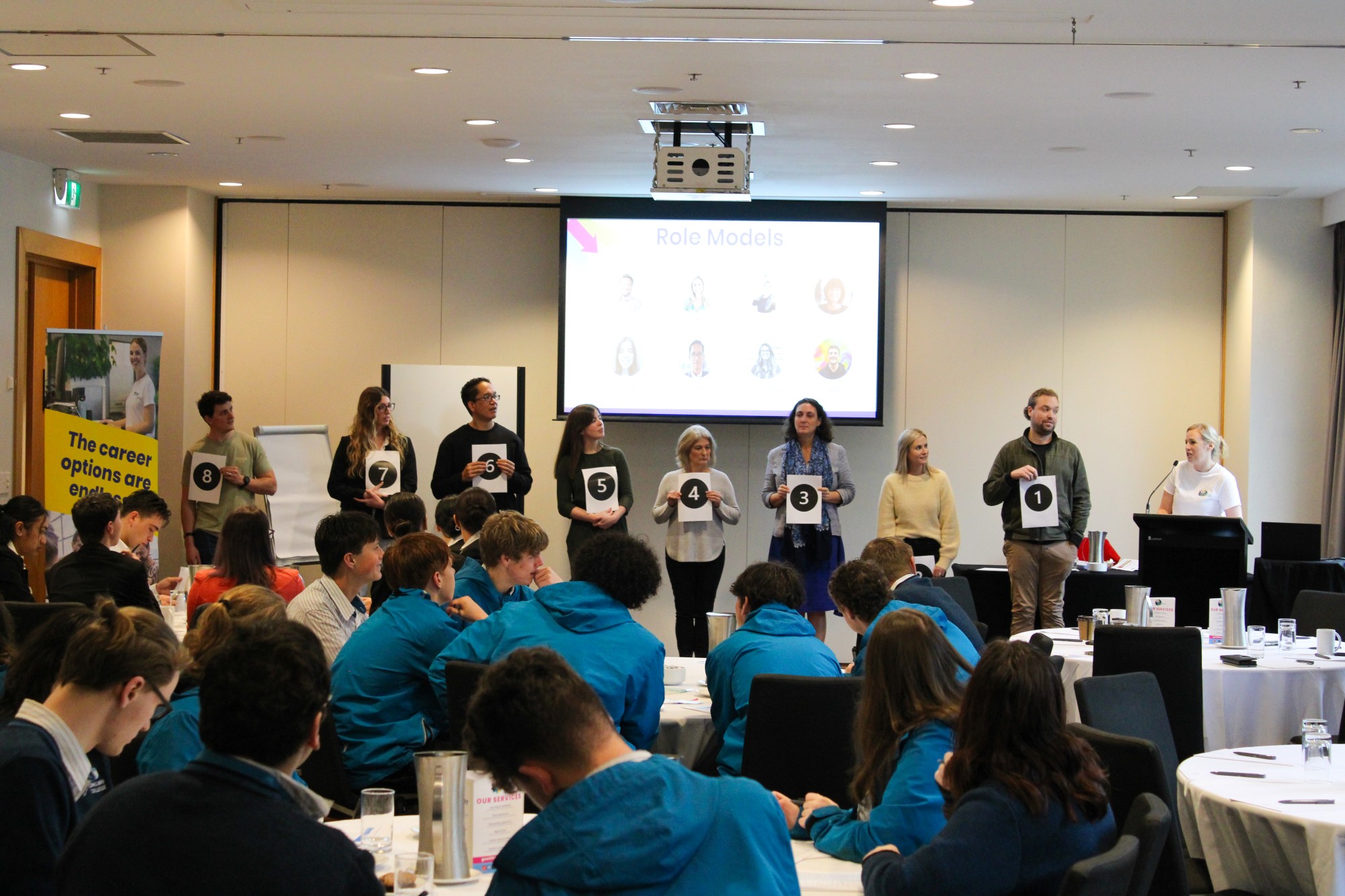 Auckland students take part in first 'Inspiring the Future' Tourism & Hospitality career famil
In collaboration with Inspiring the Future, Go with Tourism delivered a 'tourism and hospitality career famil' at Crowne Plaza Hotel on 21 July.
21 JULY 2023
More than 35 Long Bay College, International Travel College and NZ School of Tourism students took part in the first-ever Tourism and Hospitality career famil today, delivered by Go with Tourism and developed in collaboration with the Tertiary Education Commission's Inspiring the Future programme.

Hosted by Go with Tourism and Crowne Plaza Auckland, the students – as well as their teacher and career advisors – were treated to a highly interactive day showcasing the opportunities available in the tourism and hospitality industry.

The itinerary began with an 'Auckland tour' between the school and hotel, followed by a morning interacting with eight industry role models, including a "Guess Who" career game and "Career Speed Dating" activity. After lunch, the students were given tours around different departments of Crowne Plaza, with the opportunity to try out the tasks staff complete on a daily basis, as well as getting to hear from Hotel employees to better understand the inner workings of a successful, operational hotel.

Programme Director for Go with Tourism, Heidi Gillingham, says that she hopes this will be the first of a regular series of "career famil days" that the government-funded initiative will run across the country. "Better connection between industry and education was listed as a key initiative for improving the workforce in the 'Better Work Action Plan' released by MBIE earlier this year and Go with Tourism is in a great position to make these connections across the motu.

Career decisions usually form during school years, so it's a crucial time for us to help our next generation of workers to understand the true width and breadth of roles available in tourism and hospitality and help them aspire to pursue successful careers in our industry."

Since 2019, Go with Tourism have delivered a range of services, assets and events to engage teachers and students; however, the team were impressed by the role model events being delivered nationwide by the Inspiring the Future programme and conversations began in 2022 to deliver a collaborative event.

The hugely successful role model activities from previous ITF events were the first items added to the checklist. Go with Tourism, taking inspiration from the "familiarisation tours" aka "famils" often run in tourism, expanded the event into a full-day "career famil day" experience that only the tourism and hospitality industry can accommodate.
The Inspiring the Future programme spans all industries in Aotearoa and the team are always eager to sign up new role models to connect with youth. Please visit inspiringthefuture.org.nz for more information on how to get involved.

Written by Helen Shaw, Marketing Communications Manager